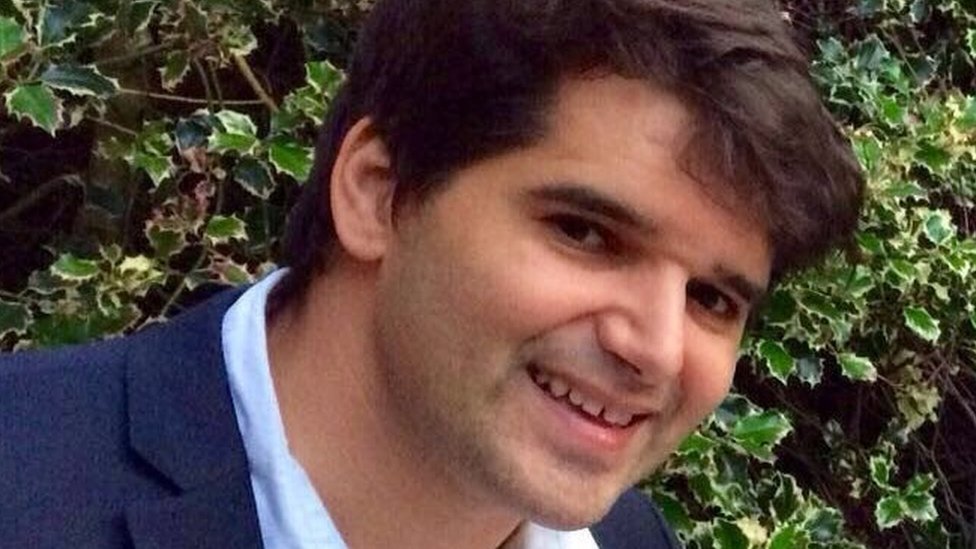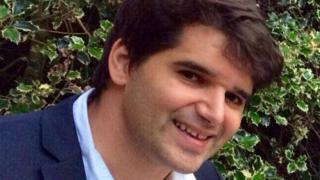 A skateboarder who died trying to help a woman who was stabbed during the London Bridge attack has been honoured with a posthumous bravery award.
Spanish national Ignacio Echeverría, 39, used his skateboard to try and and hit one of the terrorists who killed eight people on 3 June last year.
His parents were presented with the George Medal at a ceremony at Buckingham Palace on Thursday.
Two police officers also received the same award for their actions.
Speaking to the BBC before the ceremony, his father Joaquín Echeverría Alonso said his son was "good and generous".
"Since Ignacio's death we have lived a year of intense emotions," he said.
"There has been pain and love and I have reflected on the meaning of duty and commitment.
"I have been compelled to think about what really matters and what is worth taking risks and fighting for; life, freedom, dignity, for oneself and for others."
Mr Echeverría Alonso said his son was "committed to helping others" and his bravery on the day was not just a spur of the moment decision.
He told the BBC that Ignacio had said he would have intervened if he had been passing the Westminster Bridge attack which happened three months earlier.
"Ignacio told us that if he had have been skateboarding past on that occasion then the police officer would have survived, because he would have tried to help.
"Later, during the attack at London Bridge, he demonstrated this through his actions."
Three men drove a van into pedestrians on London Bridge before launching a knife attack in Borough Market last year. They killed eight people.
Mr Alonso said: "When terrorists attack someone they attack our entire way of life.
"They manipulate words and minds and try and convince us that they have acted in the name of a cause.
"So when Ignacio is recognised with an award, it represents the opposite of all of that."
He said he was grateful to be receiving the George Medal on his son's behalf because it showed the UK considered his actions to be "important".
PC Charles Guenigault and PC Wayne Marques were also given the bravery award.
PC Leon McLeod was awarded the Queen's Gallantry Medal for running at the terrorists and then providing aid to victims following the attack.
What is the George Medal?
The award was created in September 1940 under the reign of King George VI, initially to reward acts of civilian courage and bravery during the Blitz.
Since then it has been awarded more than 2,000 times, and some military personnel have received it for "gallant conduct that is not in the face of the enemy".
Posthumous recipients of the medal include PC Keith Palmer, who was fatally stabbed outside the Houses of Parliament in March 2017 during the Westminster terror attack.